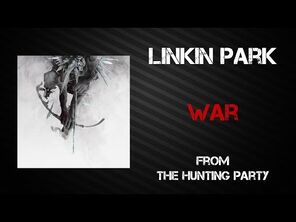 War
Song by Linkin Park
from the album The Hunting Party
Released
June 17, 2014
Genre
Alternative Metal, Heavy metal , Hard rock
Length
2:11
Label
Warner Bros., Machine Shop Recordings
"
"Linkin Park singles chronology
War is the fifth track from Linkin Park's sixth studio album The Hunting Party. It was released June 17, 2014 through Warner Bros. and Machine Shop Recordings.
Composition
Edit
War is one of the most unforgiving, ferocious track Linkin Park ever made. With an old school punk rock sound containing Chester Bennington's screams and Brad Delson's beast guitar solo, War brings the band to their early agressive influence while still bringing their style into uncharted territories. It is also the only song in this album to have Chester Bennington playing the guitar.
(One, Two; One, two, thank you!)
There's no peace / only war
Victory decides who's wrong or right
It will not cease / only grow
You better be prepared to fight
And it will not apologise
For laying down your life
War
There's no pain / it will spare
Fear has become your only right
And once you're lost / in your dispair
Forever black eternal light
And it will not apologise
For laying down your life
War
Destroyer
War
Destroyer
It needs no side to justify
Laying down your life
War
Destroyer
War
Music video
Edit
Ad blocker interference detected!
Wikia is a free-to-use site that makes money from advertising. We have a modified experience for viewers using ad blockers

Wikia is not accessible if you've made further modifications. Remove the custom ad blocker rule(s) and the page will load as expected.