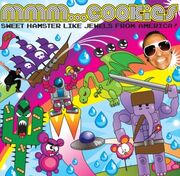 This album is also known as Mmm... Cookies Sweet Hamster Like Jewels From America.
Track Listing
Edit
1. "You Ain't Gotsta Gotsta " 0:58
2. "Bubbles " 2:22
3. "No Laundry " 0:57
4. "Da Bloos " 1:17
5. "PB N' Jellyfish " 1:55
6. "26 Lettaz In Da Alphabet " 3:34
Ad blocker interference detected!
Wikia is a free-to-use site that makes money from advertising. We have a modified experience for viewers using ad blockers

Wikia is not accessible if you've made further modifications. Remove the custom ad blocker rule(s) and the page will load as expected.