Scott Koziol was a temporary bassist for Linkin Park. He played bass for the song "One Step Closer" on the album Hybrid Theory (Bass on three other tracks was played by Ian Hornbeck, all other bass was played by Linkin Park guitarist Brad Delson). Scott can also be seen in the MTV video for "One Step Closer," and did several US tours with the band including stops at The Roxy, The Whiskey, Avalon, Roseland(NY), Radio Shows, and others. He left when Dave "Phoenix" Farrell rejoined Linkin Park in late 2000. He has also played with Kottonmouth Kings and other artists.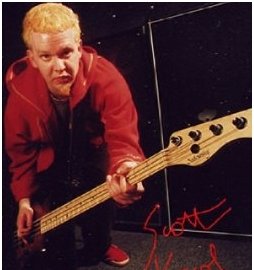 Ad blocker interference detected!
Wikia is a free-to-use site that makes money from advertising. We have a modified experience for viewers using ad blockers

Wikia is not accessible if you've made further modifications. Remove the custom ad blocker rule(s) and the page will load as expected.