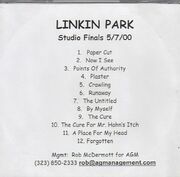 LPlive.com posted an article saying that a cd with Hybrid Theory Unmastered Studio Files had come up on ebay. They ignored the bid, due to the fact that most of those are fakes. However, after the bid was over someone contacted them and said the songs were real. They got permission to post the mp3s to these songs on their website.
The tracks are in a different order than they appear on Hybrid Theory, some still have their demo titles, and some of them are slightly different then the ones released on Hybrid Theory.
Track Listing
Edit
Ad blocker interference detected!
Wikia is a free-to-use site that makes money from advertising. We have a modified experience for viewers using ad blockers

Wikia is not accessible if you've made further modifications. Remove the custom ad blocker rule(s) and the page will load as expected.